Olivine
---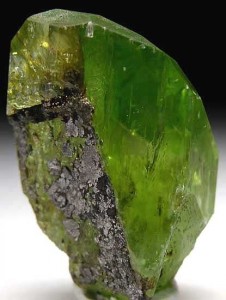 Origin
Chrysolite means "gold stone". It is mentioned in the bible in the list of gemstones set in the breastplate of Aaron (Book of Exodus) and in the list of foundation stones for the New Jerusalem (in Revelation).
Chrysolite is now more commonly known as Olivine and Peridot. Translucent olivine is sometimes called peridot which is actually the French word for Olivine. It is one of the most common minerals in the earth. It occurs in mafic and ultra-mafic igneous rocks as a primary mineral in certain metamorphic rocks.
It is not specifically recognised as a mineral but a mineral group comprising of Forsterite and Fayalite. The ratio of magnesium and iron varies between the two. It is a type of orthosilicate. They create a solid solution series. Most specimens identified as Olivine fall into this series. Olivine's crystal structure incorporates aspects of the orthorhombic, Bravals lattice which occur from each silica.
Olivine dates back to the Pharaohs in Egypt. It is the gem variety of the mineral Olivine. It occurs in a light green to olive green gemstone. The intensity of the colour depends on the amount of iron present. The most desirable colour is deep olive green with a slight yellowish tint.
Olivine can be found on the volcanic island of Zabargad in the Red Sea east of Aswan Egypt. Peridot can also be found in Burma, Pakistan, China, Vietnam and the United States. The finest quality comes from Mogok in Burma.
Olivine is found in meteorites, the moon, mars and infant stars.
Physical
It helps with problems associated with aging. It is as stone of cellular rejuvenation. They aid healing the chest, gut, stomach and duodenal ulcers. They help heal health issues associated with the heart, lungs spleen and intestine. It strengthens the liver, gallbladder, intestine and muscles.
Emotional
Olivine is a gemstone for manifestation of all desired things. It is a stone of prosperity and happiness. Olivine helps increase self-esteem and aids you to let go of guilt, anger and jealousy from past experiences. It helps you to feel more at ease with devolvement's in life it is a good stone to wear for protection against psychic attacks. It helps to create an increase in love, joy and bring improved emotional health. It promotes independence and helps break away from external influences as well as to admit mistakes.
Attributes
Specifications
| | |
| --- | --- |
| Mineral : | Magnesium Iron silicate |
| Geometric Form : | Hexagonal |
| Formation : | Primary |
| Family: | Forsterite & Fayalite |
| Colour Ray: | Green |
| Birthstone: | August September October |
| Appearance: | Brittle, vitreous , translucent |
| Aura: | Green |
| Colour: | Olive green light green yellow |
| Chakra: | Heart & Solar plexus |
Read More