Hawks Eye
---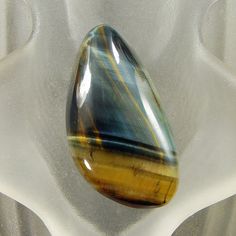 Origin
Falcon's eye is a blue black to blue green opaque gemstone variety of fibrous quartz. All Tiger Eye is chatoyant which derives from the French language for "cat's eye". In the middle ages, the Falcons Eye was worn for protection as an amulet against witchcraft, demons and the evil eye.
Some stones with a higher oxidized iron are more bluish brown colour. It is typically multi-coloured with golden stripes or wavy patterns. It is an opaque fibrous aggregate, variety of microcrystalline quartz.  It displays an iridescence that enhances its silky luster.It is a pseudo morph of quartz meaning it changed from one mineral to another over time. Falcon's eye was once crocidolite and changed to quartz. Crocidolite is a fibrous blue mineral; from the riebeckite family of amphibole silicates. It has a distinct composition, colour and chatoyancy with a silicon dioxide composition. It has a good hardness and durability. It has lower iron content than Tigers Eye.It is always cut to maximise its chatoyancy and associated closely with Tigers Eye and Pietersite.
It is quite rare and therefore not seen in much jewellery only interesting pendants or beaded necklaces. It is often carved for ornamental purposes. Its colour makes it a popular gemstone for men's jewellery as cuff links or tie racks.
It can be found in many locations around the world like Australia, Brazil, Canada, China, India, Kora, Burma, Namibia, South Africa Spain and the US.
Physical
This crystal helps with eye related problems, relief of spinal problems and neck problems; it is also helpful to sinus blockages. Falcons eye helps relieve pain, shivering and hormonal hyperactivity Falcon's eye crystal helps soothe fears related to travelling; it protects one when travelling in remote areas.
Emotional
Falcon's eye has grounding and warming energy. It helps banish the winter blues. It helps with nervousness and inner restlessness. It makes it easy to retain overview in complex situations. It helps us to understand our own life –plan. It encourages understanding of complex and seemingly random events. It strengthens the decision making process, willpower and courage. It helps to speak more and gain more confidence.
 Attributes
It is a Shamanic stone, helpful to anyone undertaking a magical journey, astral trip or spiritual challenge. It helps deepen meditation, see the truth in order to grow and attune the third eye.
Specifications
| | |
| --- | --- |
| Mineral : | Silicon Dioxide |
| Geometric Form : | Trigonal |
| Formation : | Primary |
| Family: | Quartz |
| Colour Ray: | Brown gold |
| Birthstone: | Gemini |
| Appearance: | Opaque silky lustre |
| Aura: | Brown gold |
| Colour: | Blue grey black |
| Chakra: | Base |
Read More